Working space
Space is available 24/7 and it is open every day, all day, 365 days a year. Members always have secure access to their workplace. All members have access to extensive amenities and services, according to their membership.
What our hub has to offer
Space
40 co-working seats
Offices
3 classrooms and 1 office
Benefits
High quality tables and chairs
Coffee
Chill room and kitchen
Designed and created for you
EWA Hub is for thinkers, change makers, entrepreneurs, digital nomads, boot scrapers, web developers, coders, networkers, web designers, programmers and people looking for something different, for more balanced life, it is a place to grow, connect and collaborate.
In this hub you have possibility to meet a lot of different people, you can sit with them in the coffee shop, or work with them in open space area, or come to their educational events. When we connect with other people we can share ideas, solutions, knowledge, make new business offers and make friends.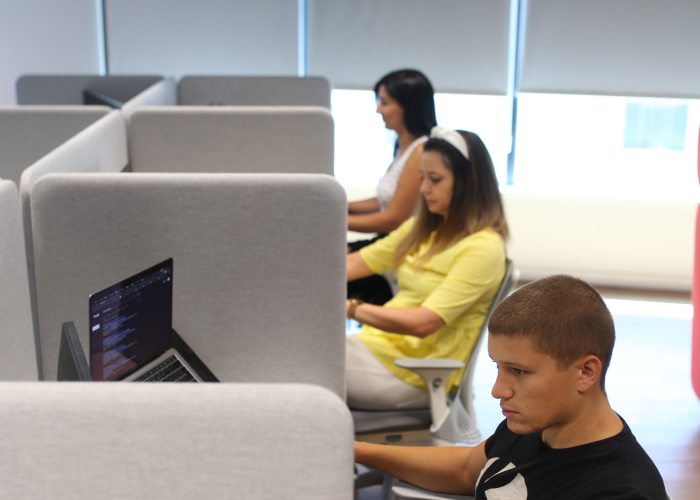 Co-working space
If you like to work in a quiet, sunny area with a view of the city, reserve your special place.
Co-working space is spread over two large, sunny rooms with 40 desks. Every desk is soundproofed, has its own sockets for cables and chargers, and has enough space for monitors or other devices.
High quality
tables and chairs
If you like to have just your special desk, reserved for you, come and see which position in the Hub you like the most. And if you like to stand straight while you work, you can choose hight adjustable desk with same equipment. All desks have space for cables and chargers, additional monitor or device.
Herman Miller chairs are unique, ergonomic chairs that are designed to support people in the varied postures they adopt throughout the workday and to improve their health.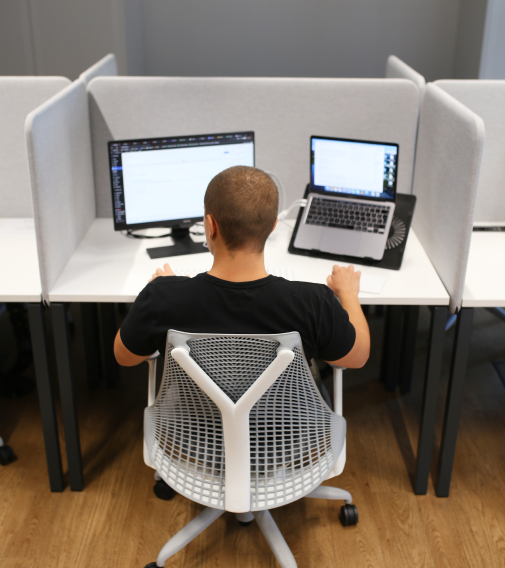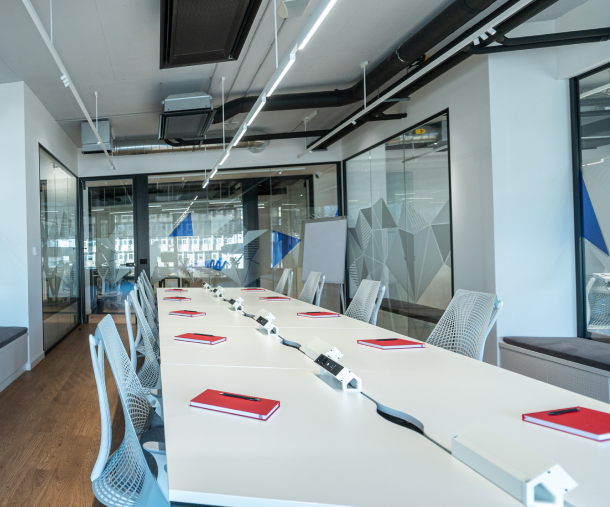 Offices and meeting rooms
If you need space for a bigger team, we can offer you comfortable and spacious office space for rent with 8 desks, and office space for rent with 11 desks.
We prepared meeting rooms with big screens and comfortable chairs for all you need to have. Depending on how many people need to participate in a meeting we can offer you room for up to 15 people.
Chill room and kitchen
We made an effort to create a nice and comfortable space where all our members could make a quick step away from the workstation and to help them to decrease one's stress and clear their minds with good coffee and networking with other members.
This Chill Room and Kitchen is the best place to make acquaintances, and have business opportunities, and friendships.
Welcome to your new space.
You can just drop in, sign up, pay at our front-desk and start working.